To commemorate the 50th anniversary of the official existence of YSS Bengaluru chapter, the road starting from Indira Nagar 100 ft Road, passing by E.S.I. Hospital, cutting across C.M.H. Road and ending at Old Madras Road (near Indira Nagar B.D.A. Complex), covering a distance of 2.5 kms has been named as "Paramahansa Yogananda Road" in the month of December 2015.

The Road Naming function was a memorable event, attended by more than 600 people across Bengaluru and from other parts of Karnataka State, in addition to the many distinguished guests and dignitaries.
The function commenced with Prabhat Pheri at 5:45 am on 30th December 2015. The whole Mandir was delightfully decorated with flowers and streets surrounding the Mandir and main building was colorfully lit-up with lights.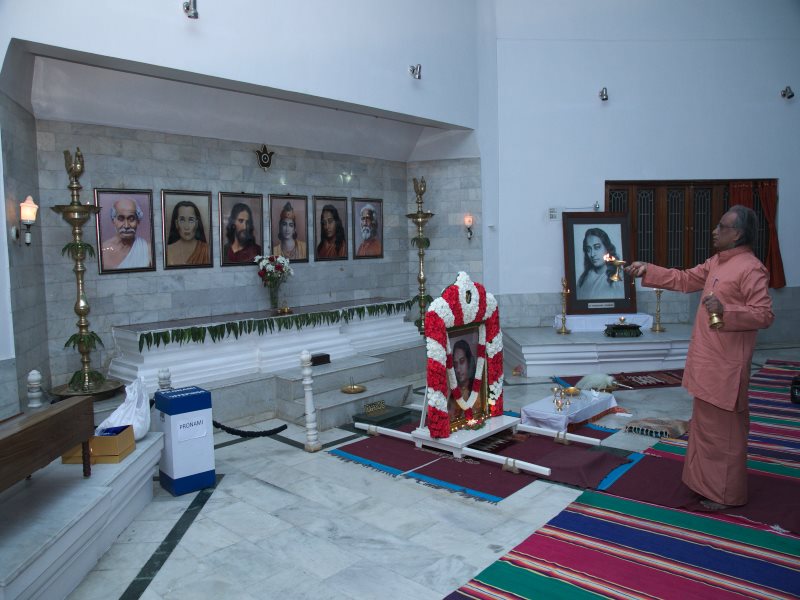 Swami Madhavanandaji inaugurated the Prabhat Pheri with the ceremonial Arthi at 5:45 am.
YSS/SRF bhajans and chants were sung with heartfelt devotion. Devotees walked over 5 kms for more than 2.5 hours, the procession finally concluding back at the Dhyana Mandir.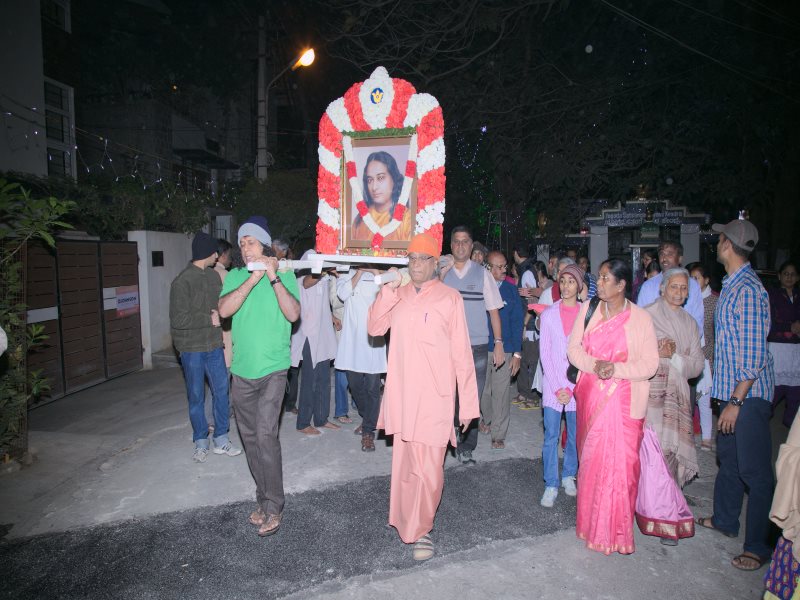 A similar event was conducted in the afternoon from 3:00 pm to 4:30 pm with bhajans and a procession of devotees in 10 vehicles displaying YSS banners, with the first vehicle decorated beautifully carrying Guruji's photo.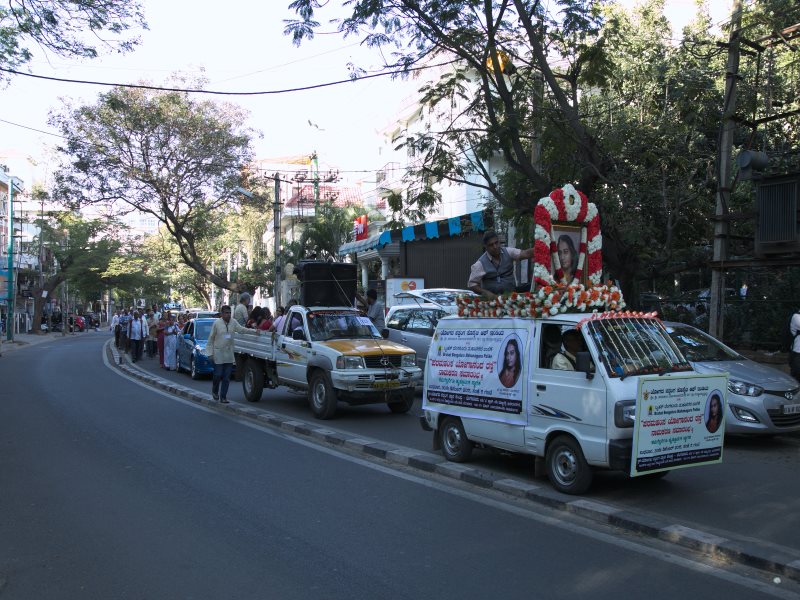 YSS devotees came from all over Karnataka - Karwar (about 450 kms from Bengaluru), Hassan (180 Kms), Mysuru (150 Kms ), Arsikere (170 Kms ), Kushalnagar (300 Kms), Belagavi (505 Kms) etc. to attend this historical event and participated heartily in the procession.
The evening function started at 5:30 pm with distinguished dignitaries including Sri. K.J. George, Hon'ble Minister of Town planning & Development-Bengaluru; Sri. N.A. Haris, Hon'ble MLA of Shantinagar-Bengaluru; Sri.B.N. Manjunath Reddy, Hon'ble Mayor of Bengaluru, and Respectful Corporators - Sri.C.R. Laxminarayan (aka Gundanna) and Sri Anand Kumar S. addressing the gathering.
The function was blessed with the presence of Swami Suddhananda Giri and Swami Madhavanada Giri of YSS, and Sri Pattabhi Rama, Founder President of Sadhana Vidyalaya, Bengaluru and a prime devotee of Swami Rama. Swami Suddhananda Giri enlightened the gathering about YSS and its mission.