Yogoda Satsanga Dhyana Kendra, Bengaluru held a memorial service for our dear departed Swami Anandamoyji on 25 September 2016, Sunday at our kendra from 10:00am to 12:40pm.
Around 170 devotees attended the memorial service which started with Energization Exercises, opening prayer and a short meditation. This was followed by twenty minutes of reading from talks of Swamiji, followed by another short meditation and chants. This was succeeded by a reading from the Bhagawad Gita and meditation in accordance with the memorial service format suggested by Centre Department, YSS.
The last one hour was dedicated to a eulogy, brief introduction to Swamiji and a reading of his biography as published on the SRF website, followed by senior devotees from the kendra paying tribute to the beloved disciple of Guruji by sharing their experiences of interactions with him and the blessings they received. The atmosphere was electric as devotees heard with rapt attention rare details about Swami Anandamoyji and his association with the Bengaluru kendra.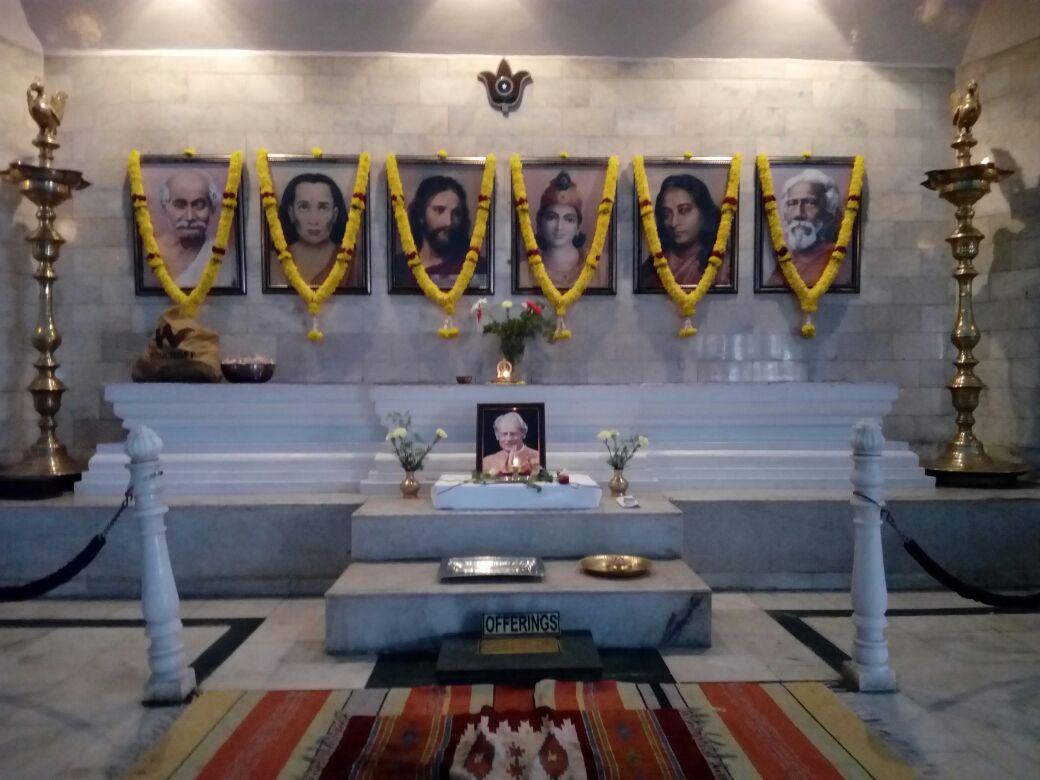 Hariputranji fondly remembered Swami Anandamoyji's many visits to Bangalore and the meditation center, especially the first-time lighting of the 7-foot tall brass altar lamps that stand to this day. Anant Narrainji reminisced about the opportunities he had of chaffeuring Swamiji during his visits to Bangalore to interesting locations in and around Bangalore, and recalled many fascinating anecdotes of Swamiji's visits to Bangalore. Raj Gopalji narrated how Swamiji visited Nandi Hills for retreats, and the blessings of receiving personal counsel that gave a big boost to sadhana. AT Naiduji spoke of the opportunities that the small group of young devotees at the kendra had in volunteering and serving Swamiji. Ramakrishna Raoji recalled the kindness and thoughtfulness of Swamiji in remembering to write a letter to him and the kendra devotees when Swamji could not meet Raoji in person during his visit to the US. Russi Modiji shared of the blessings he and his family received from Swamiji.
Sivakumarji explained the symbolism of the red and white flowers that are part of the Flower Ceremony, and concluded by reading Guruji's poem, and prayer. At the end of the service, some of the devotees walked up to a smiling picture of Swami Anandamoyji placed on the steps of the altar and paid their homage, respect, gratitude to the beloved soul - who has contributed tremendously to their understanding and appreciation of our Guru, what true devotion means, the Guru-disciple relationship and kriya yoga meditation.
Prasad was distributed to the devotees, and they went back to their homes recharged and blessed by the remembrances of Swami Anandamoyji! JaiGuru!