YSDK, Bangalore Kendra managing committee had shortlisted Sri Rakum School for the Blind for sponsoring the lunch and donating woolen blankets on the auspicious occasion of the 125th Birth Anniversary celebration of the Beloved Gurudev- Sri Sri Paramahansa Yogananda on 5th January 2018.
About the Sri Rakum School for the Blind: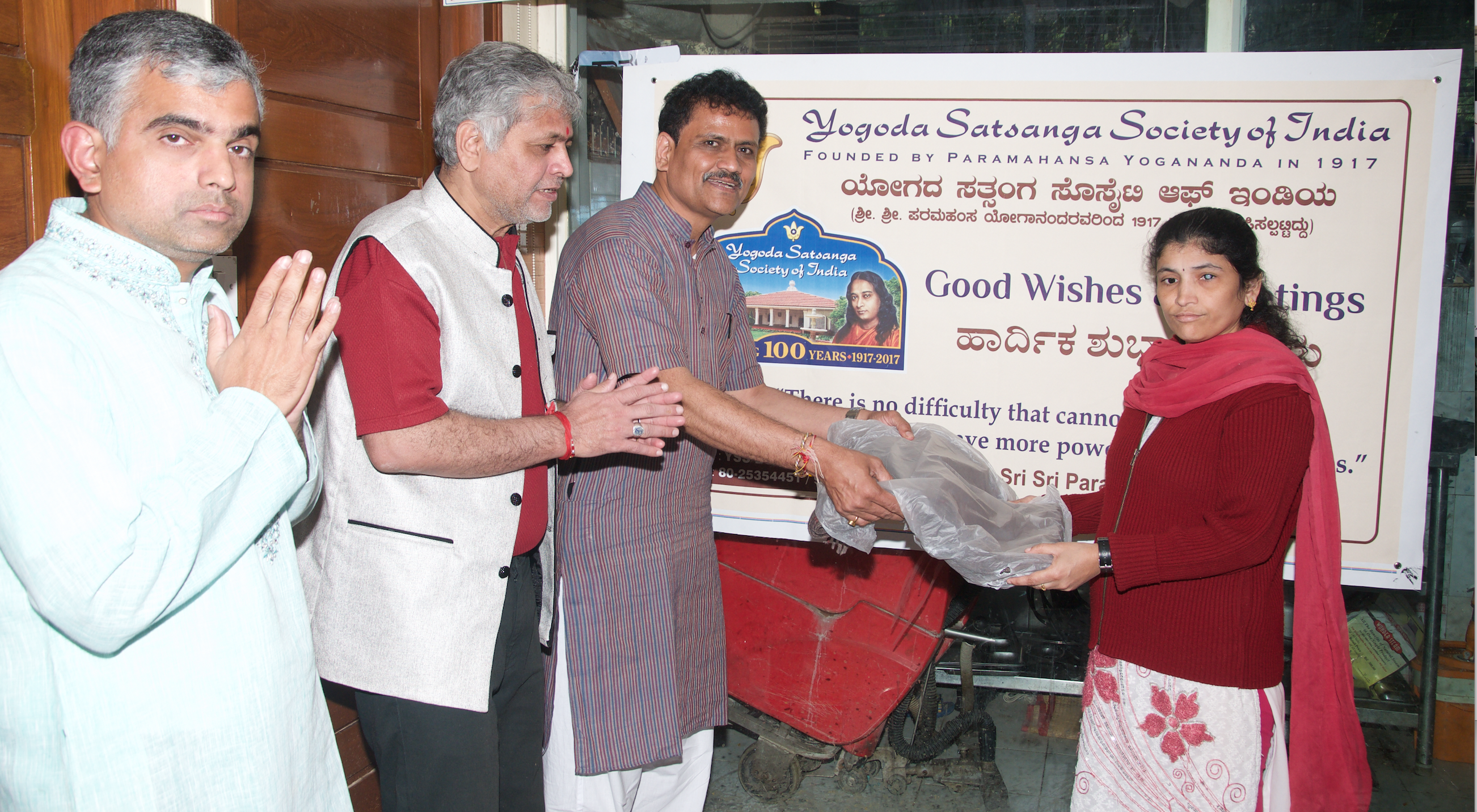 Acharya Sri Rakum School for the Blind is a Free Residential School for the Visually Impaired and for the Sighted-under privileged was started in 1998. The school starts from Nursery and goes up to the Postgraduate level, preparing the students to face competitive entrance exams like the Civil services and take up jobs and be mainstreamed in society.
This is the main branch of Sri Rakum School for the Blind, started small in 1998 with just three students, we now have over 100 students. Starts from preschool going up to post graduation, students are also trained in social skills, yoga, karate and other vocational skills.
The school at Devanahalli has around 500 children who come from the surrounding 26 villages. Classes start from Nursery and go up to the tenth standard. The School also runs a Goshala (cow shed) and has an attached Health Care Centre.
The Arkavathy Layout School is for younger children from the surrounding areas. It has LKG and UKG for kids from the age group of 2.5 years to 6 years. As they grow they are given the choice to study at the Devanahalli or Indiranagar School. For more information, kindly visit website: https://rakum.org/
The Charity Service:
YSDK volunteers from Bangalore Kendra visited Sri Rakum School for the Blind's Indiranagar branch to serve lunch to 100 blind students and also handed over 50 woolen blankets on the auspicious day of 5th January 2018, Friday while celebrating the 125th Janmostav of Beloved Gurudev Sri Sri Paramahansa Yogananda. The select photos of the charity service are attached herewith this report. This charity service cost worth 20000 INR was well appreciated by Acharya Sri Rakum ji while handing over the donation receipt.