About Bangalore Kendra
Yogoda Satsanga Society of India (YSS) was founded by Sri Sri Paramahansa Yogananda in 1917. Yogoda Satsanga Dhyana Kendra, Bengaluru is situated on Paramahansa Yogananda Road (close to Indira Nagar 100-feet road), at Domlur, in the heart of Bengaluru. Established in 1993, the Kendra conducts Group Meditations & Satsangas and Sunday School Classes for children aimed at disseminating the timeless teachings of Sri Sri Paramahansa Yogananda, the founder of YSS of India (SRF worldwide). The Kendra, inspired by the ideal of Plain Living and High Thinking upheld by Sri Sri ...
News and Recent Activities View All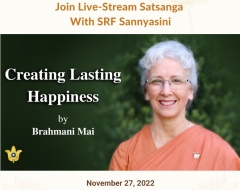 "Creating Lasting Happiness" by Brahmani Mai
We invite you to watch a talk by SRF sannyasini Brahmani Mai which was live-streamed from YSS Noida ashram on Sunday, Nov. 27, 2022. This discourse based on the "how-to-live" wisdom of Paramahansa...
Read More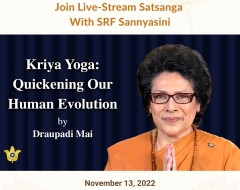 "Kriya Yoga: Quickening Our Human Evolution" by SRF Sannyasini Draupadi Mai
SRF sannyasini Draupadi Mai gave a discourse on "Kriya Yoga: Quickening Our Human Evolution" on the closing day of the Sadhana Sangam at YSS Ranchi Ashram....
Read More
Upcoming ProgrammesView All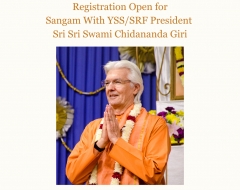 Registration is Now Open for YSS/SRF President's Forthcoming India Tour 2023
It gives us great joy to announce that our revered President Sri Sri Swami Chidananda Giri plans to visit India during January-February 2023. During this period, Swamiji will be visiting our YSS...
Read More
SUBSCRIBE FOR UPDATES AND NEWS
You can now subscribe to receive the latest updates, happenings and events from Bangalore Dhyana Kendra