Children's Satsanga at Bengaluru Kendra
Yogoda Satsanga Dhyana Kendra, Bengaluru has been conducting Children's Satsangas (Sunday School) for children between 6 - 18 years, since 2013 at the Domlur kendra. Satsangas are conducted in three age groups:
Primary: 6 - 10 years (10:15am - 12:15pm at Domlur kendra)
Pre-Teens: 11 - 13 years (10:15am - 12:15pm at Domlur kendra)
Teens: 14+ years (10:30am - 12:15pm via video conference)
There is also a Family Area where parents can take turns to look after their toddlers (2 to 6) while the mother or father joins the group meditation in the Main Mandir.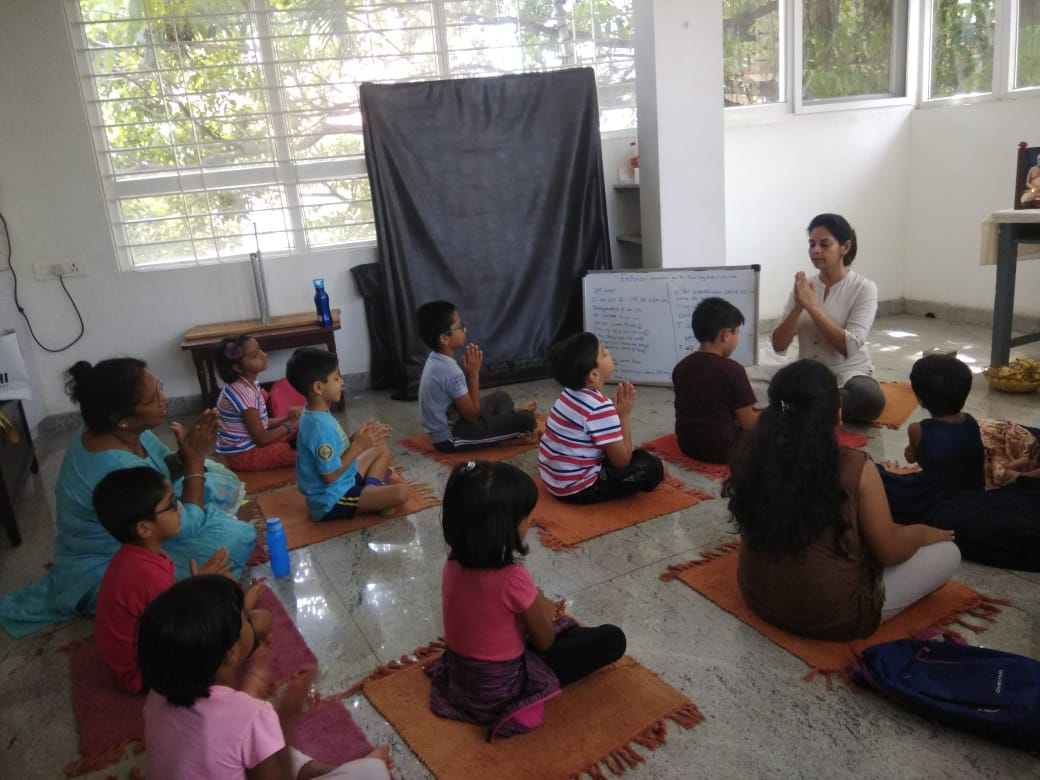 About 30 children across multiple age groups attend children satsanga every Sunday served by a dozen YSS member volunteers playing the role of teachers and assistants.
Guiding Principles
Inspiration from Gurudeva:
"It isn't academic education alone that makes people happy. It is "how-to-live" education- how to develop a harmonious, moral life, stronger will power , and spiritual understanding - that will bring happiness" - Sri Sri Paramahansa Yogananda

The main ideal is to introduce children to the teachings of Gurudeva Paramahansa Yogananda about the value of a loving relationship with God, to inculcate spiritual values, and to help them face challenges by applying spiritual principles in their daily lives.

Children also learn the principles of Paramahansaji's Energization Exercises, the joy of Chanting, the power of Scientific Healing Affirmations, the benefits of meditation and the happiness of service - including praying for others and sending healing vibrations, and the art of sharing through prasad distribution.

Guidance from Daya Mata:
"The role of Self Realization Fellowship/Yogoda Satsanga Sunday Schools (Children's Satsangas) is to help those in their formative years to realize that God is the only goal of living. Thus they may be spared much suffering. The central theme of every class must be God: God as the center of life. Never let the Children's Satsangas become mere places of diversion, but to strive to find interesting ways to present the teachings in their pure form, so that the children will benefit spiritually." - Sri Sri Daya Mata
What Children's Satsanga Parents and Children say:
From a parent:
"Parenting is challenging and we need a lot of calmness and love to work with our children on a daily basis. We know that meditation, especially group meditation, helps us. And yet in the most crucial years of bringing up children we are not able to fortify ourselves by joining group meditation, because the children can't sit quietly in meditation and we can't leave them at home. Children's Satsanga at the Domlur Kendra is a great way to make sure that every Sunday both we and our children get a spiritual boost."

Children from the pre-teen group:
"Children's Satsanga is a place where I learn about how to be at peace with myself, my friends and my surroundings. I learn many life qualities and lessons. The teachers there are also very nice."

"It makes me feel energetic, peaceful and joyful."

"It is because of the parents that we are here at Children's Satsanga. Without the teachers' wonderful and extraordinary preparation, it would be nothing there. It is because of the parents that we get introduced to such opportunities. I actually want to thank both teachers and parents for giving us such an opportunity to change our old "self" into our new realized "self" and thank you Guruji for guiding us through it. It is the best class on a pleasant day, time , surroundings and climate."
New Children's Satsanga Rooms
Recently, two new rooms have been created for children satsanga on the first floor of the main mandir - bringing the total spaces for Children's Satsanga in our Kendra to four spacious areas.

Menu: About Childrens' Satsanga | Age-appropriate Teachings | Activities | Enrollment | Volunteer